Winter Shark Cage Dive - Dive Training Included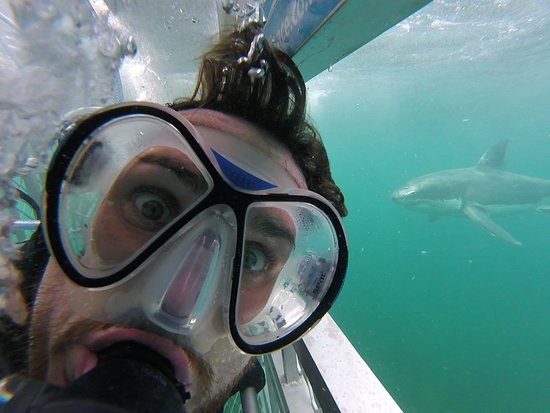 Duration: 1 Days (approx.)
Location: Bluff, Southland
No Dive Experience? For those who aren't certified divers, we offer training on board our vessel the day of the trip. Once we arrive at the dive site, we hold the "Introduction to Underwater Diving" session with new divers with our Dive Guide.
The introduction covers the basic equipment use, safety info and how to use a regulator ( Surface Air Supply). Its designed to make people comfortable and capable while in the Shark cage. As we depart from Bluff, enjoy the sights of Foveaux Strait for approximately 45 minutes while heading south toward the remote Northern Titi Islands. Once anchored off Edwards Island, it's time to watch our Safety Video and change into Dive gear before we all start to "Shark Watch".
Up to five people at a time will enter the cage for up to 25 minutes for their first entry, until everyone has had time in the shark cage using the surface air supply regulators from the vessel. Following the first dive, divers can visit the cage as often as they like. Our experienced crew will provide a commentary on the southern Great White Sharks and local wildlife.
Dive Gear ( wet suit, dive mask, weight belt, booties ). You are welcome to bring your own prescription dive masks

Please bring warm clothing and a towel.

Due to Covid19 Level 2 restrictions, this tour has limited passengers, separated seating and no onboard catering.



IMPORTANT: This tour is scheduled late in the Shark Cage Diving season due to interruption of COVID19 Lockdown. At $100 per person deposit is required to secure your place on a tour, with final payment due 5 days prior to the tour date.